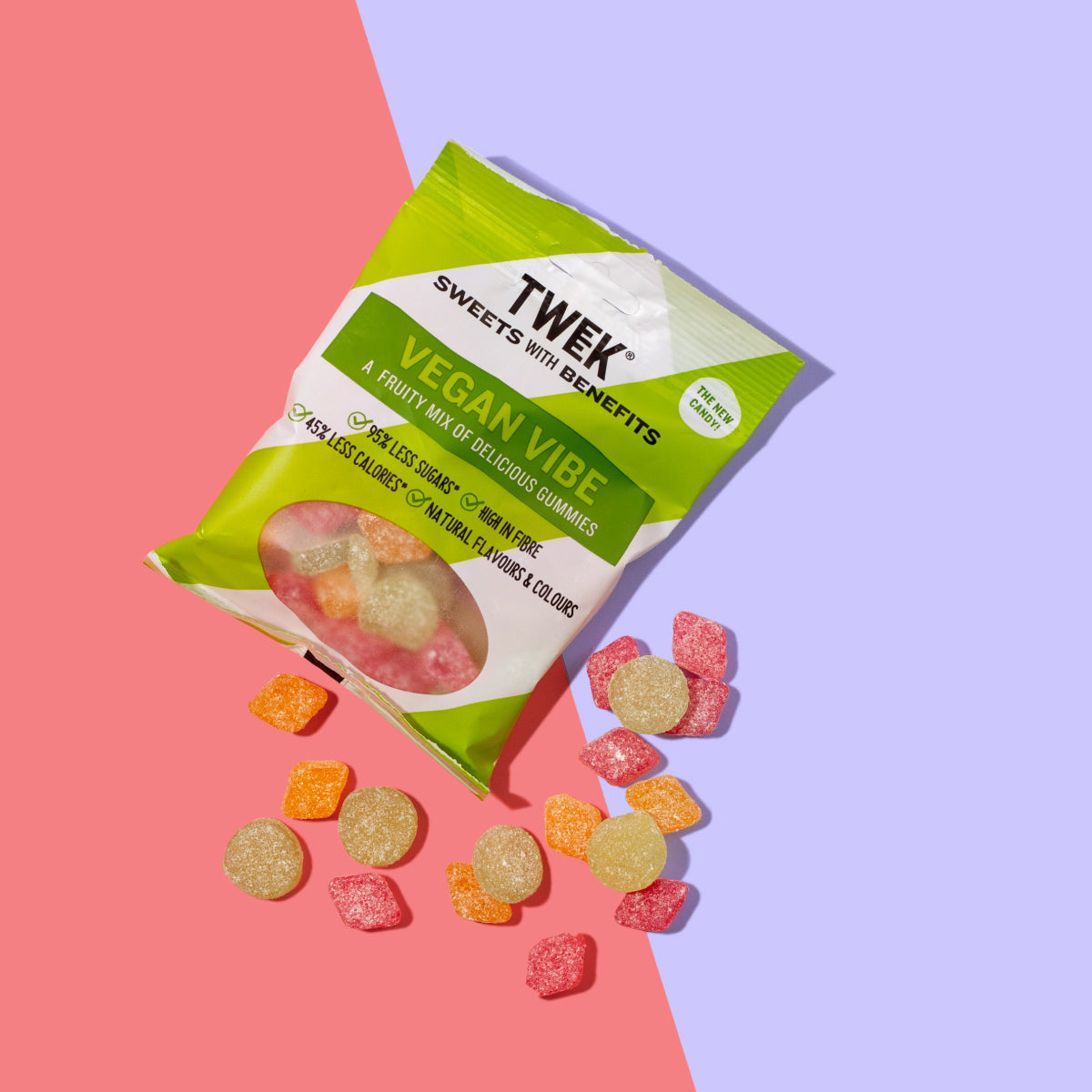 Tweek Vegan Vibe Gummies
21st century sweets for the 21st century person – say hello to Tweek's Vegan Vibe Gummies.  
Yes, these Vegan Vibe sweets are a fruity sweet and sour mix of healthier vegan gummies that will keep your both your sweet tooth and waistline happy. 
You see, unlike traditional gummy sweet, these gummies are made with sweeteners instead of sugar, so you still get to savour a sweet hit without excess calories or dreaded sugar spike. 
So go on and enjoy refreshing green apples, peaches and red summer berry flavours – perfect for curbing sweet cravings in tasty style. 
Preparation & Storage

Ready to eat straight from the pack

Store in a cool dry place, out of sunlight.
Nutritional information

Typical values
per 100g
per 80g serving
Energy
750 kJ
180 kcal
600 kJ
144 kcal
Fat
of which saturates
0.0 g
0.0 g
0.0 g
0.0 g
Carbohydrate
of which sugars
28.0 g
2.0 g
22.4 g
1.6 g
Fibre
54.0 g
43.2 g
Protein
0.0 g
0.0 g
Salt
0.04 g
0.03 g
Ingredient list

Polydextrose (dietary fibre), isomaltooligosaccharides*, modified potato starch, sweeteners (erythritol, steviol glycosides), acidity regulators (malic acid), natural flavours, extract from (safflower, sweet potato, black carrot, paprika, spirulina), glazing agent (carnauba wax). *source of glucose. **Compared to traditional alternatives (comparison by Tweek Sweets Ltd).

May contain: Peanuts, Nuts, Milk, Wheat, Soya