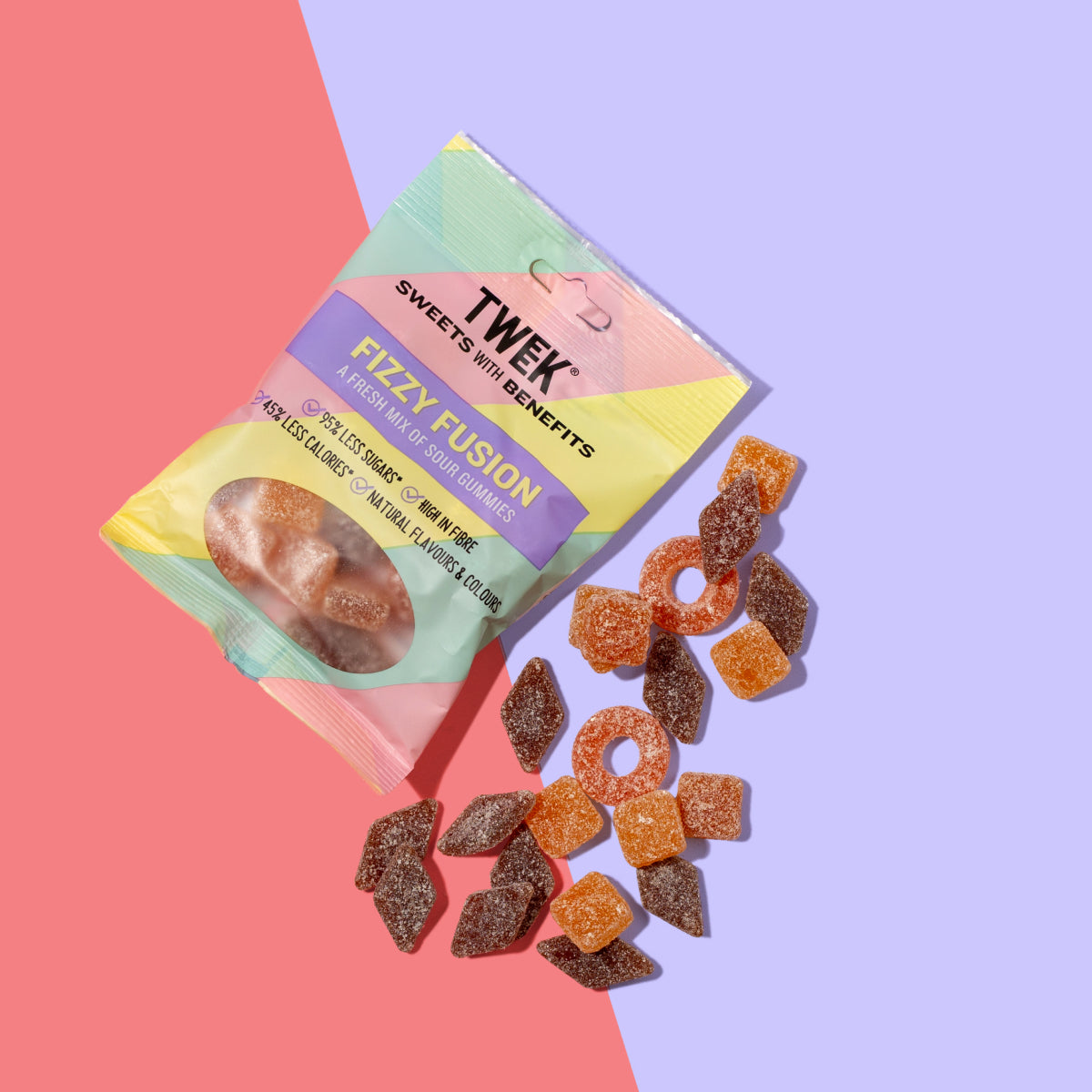 Tweek Fizzy Fusion Gummies
The Tweek Fizzy Fusion gummy is a hit from Sweden that's here to stay.  
Each bag contains a mix of sour jelly gummies, which unite the taste of bubble-gum, melon, and sour cola for a satisfying sweet fix.   
But that's not all… you see these sweets are low in sugar!   
Rather they're made with sweeteners allowing you to satisfy your sweet tooth without any of the sugar high or excess calories.  
Preparation & Storage

Ready to eat straight from the pack

Store in a cool dry place, out of sunlight.
Nutritional information

Typical values
per 100g
per 80g serving
Energy
770 kJ
185 kcal
616 kJ
148 kcal
Fat
of which saturates
0.0 g
0.0 g
0.0 g
0.0 g
Carbohydrate
of which sugars
23.0 g
2.0 g
18.4 g
1.6 g
Fibre
54.0 g
43.2 g
Protein
5.1 g
4.1 g
Salt
0.04 g
0.03 g
Ingredient list

Polydextrose (dietary fibre), isomaltooligosaccharides*), water, sweeteners (erythritol, steviol glycosides), rice starch, bovine gelatine, acidity regulators (malic acid), natural flavours, extract from sweet potato, concentrate (caramelized carrot and carrot), glazing agent (carnaubawax). *a source of glucose. **Compared to traditional alternatives (comparison made by Tweek Sweets Ltd).

May contain: Milk