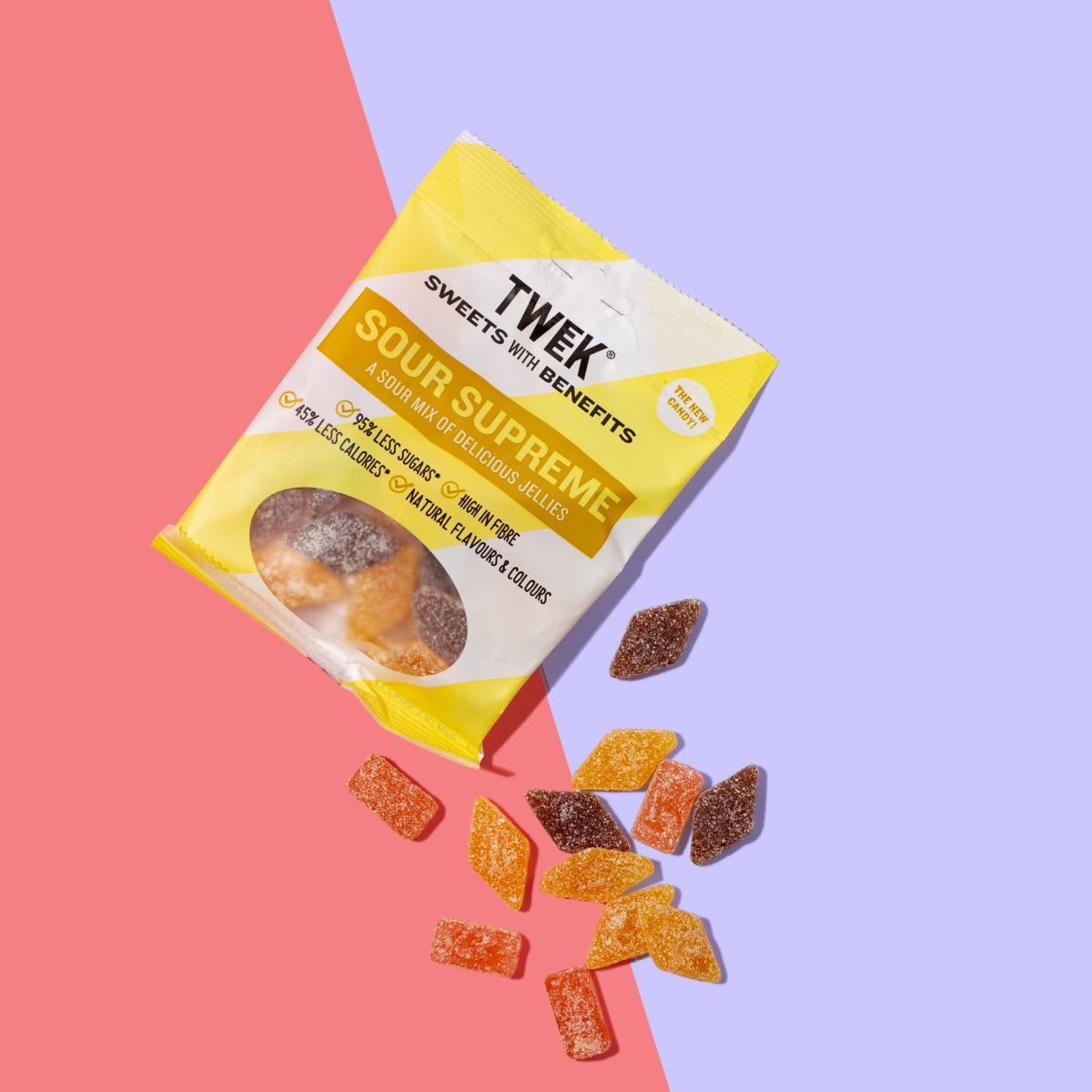 Tweek Sour Supreme Jellies
Love sweets, but hate the excess calories?  We've found the answer… Introducing Tweek Sour Supreme Jellies – super sour and sugar free. 
A full packet is only 144 calories, has under 2 grams of sugar and holds a whopping 46.4 grams of dietary fibre. 
Replacing sugars with natural fibres, the super sour mix of jelly candies from Tweek Sweets will make your mouth water without souring your diet. 
Preparation & Storage

Ready to eat straight from the pack

Store in a cool dry place, out of sunlight.
Nutritional information

Typical values
per 100g
per 80g serving
Energy
750 kJ
180 kcal
600 kJ
144 kcal
Fat
of which saturates
0.0 g
0.0 g
0.0 g
0.0 g
Carbohydrate
of which sugars
21.0 g
2.2 g
16.8 g
1.8 g
Fibre
58.0 g
46.4 g
Protein
4.8 g
3.8 g
Salt
0.04 g
0.03 g
Ingredient list

Polydextrose (dietary fibre), isomaltooligosaccharides*, water, sweeteners (erythritol, steviol glycosides), rice starch, bovine gelatine, acidity regulators (malic acid), natural flavours, extract from (sweet potato, safflower), concentrate (caramelized carrot and carrot), glazing agent (carnauba wax). *source of glucose. **compared to traditional alternatives (comparison made by Tweek Sweets Ltd).

May contain: Peanuts, Nuts, Milk, Wheat, Soya